Top 6 Places To See In Wellington New Zealand
New Zealand is one of the most serene, beautiful and adventurous country. This country definitely tops everyone's bucket list. Maori Culture, breath-taking landscapes, hot bubbling mineral springs and fascinating glowing caves, New Zealand has to offer everything one could imagine. Let's go through the best attractions of Wellington which you can visit during your trip
Ride the Wellington Cable Car–
The popular short funicular ride starts off the Lambton Quay. It is situated in Wellington's central business district and make its way to the hills of Kelburn. This funicular ride in Wellington is among the top attractions to have a great panoramic view of the city and harbour from top. Also, along with great views one can enjoy the botanic garden, cable car museum, space place (at Carter observatory) and Zealandia (via free shuttle).
Tips- One can get a 20% discount if you combine ride return tickets with space place (at Carter observatory)
Tickets-  18.40 $ (For an Adult) and 10.80$ (For a Child)
Every hour there is a show in the digital full dome in the which costs 12 $. Check the timings here https://www.museumswellington.org.nz/space-place/planetarium-shows/
Opening Hours for cable car- Monday to Friday-7.30 to 8pm, Friday- 7.30 to 9pm, Saturday-8.30 to 9pm
Tickets- Adults Return Ticket for the ride 9 $, Child Return 4.5 $
Beehive- The Parliament Buildings-
The Parliament buildings of New Zealand are located on the northern side of the Lambton Quay. They are divided into 4 buildings – The parliament house, the parliament library, the executive wing called as Beehive and the Bowen House. I highly recommend a visit to the Beehive, if you want to have a closer look to the parliament. There are daily 2 types of guided tours with
1.Introducing Parliament Tour – 60min – Banquet Hall,Parliamentary House,Debating Chamber, Legislative Council Chamber (LCC),Grand Hall,Parliamentary Library,Walk through the Galleria, Select Committee Rooms etc
2.Highlights of Parliament Tour – 30 mins – Banquet Hall, Debating Chamber, Select Committee Rooms
Tip- To book tour kindly visit this website https://www.parliament.nz/en/visit-and-learn/visit/guided-tours/#Daily
Arrive at least 15 mins prior to the time slot for which you have booked a tour or you may risk to loose your place.
Opening Timings- Daily from 10 to 4 pm, hourly
Tickets- Free of charge
Museum of New Zealand Te Papa Tongarewa-
The Te Papa museum is located along the Wellington waterfront and wharf area. It features variety of interactive exhibits and many innovative things to see. It is different from the usual exhibitions and narrates rich stories about Maoris (Indigenous Polynesian people of mainland New Zealand). Highly recommend to visit this place even if you are not a museum person.
Tip-
There are guided tours also available for a charge for many exhibits.
Don't miss the Gallipoli Exhibit, one of its kind depicting story of the Gallipoli campaign in World War I through the eyes and words of eight ordinary New Zealanders with larger-than-life characters
Opening Timings- 10 am to 6 pm
Tickets- Free of Charge
Waterfront –
A perfect serene and picturesque trail for jogging, walking, relaxing and cycling. On sunny days locals flock here to enjoy a quick swim from the special designed 8-metre-high diving platform. Also, it's quite popular for many events and celebrations. There are many cafes, bars and places to dine around wharf. You will even see families enjoying rides on the peculiar crocodile bikes. The waterfront spreads anywhere from Lambton Quay to Oriental Bay and  Wellington railway station nearby.
Tip- There is a farmer market every Sunday morning selling local produce
The Te Papa Museum is located on Habour Front and can be visited along.
Visit Weta Cave and Workshop-
Weta Cave is an award-winning  workshop with cutting edge technology of special effects and hand-crafted artistry. They have tours ranging from 45 mins to full day. Through their tours you get a chance to see and learn about the costumes, props, creatures and displays created from your favourite movies like The Lord of the Rings, Avatar, The Hobbit etc. There is also a tour on the techniques and effects used during filmmaking. Do explore their mini-museum and documentary of the Workshop's creativity.
Tip- The tours sell out fast in peak season (Oct – April), hence pre-booking is advised.
Photography is not allowed whilst in their tours.
Tickets- Check their slot timings and prices here https://tours.wetaworkshop.com/?_ga=2.32125752.745723493.1609236854-489884603.1609236854
 Opening Hours- 8.30 to 5 pm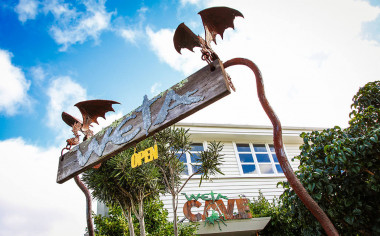 Cuba Street and Lambton Quay-
Cuba Street is among the most colorful street with the famous bucket fountain and is full of vintage clothing and art galleries. This street also features many quirky cafés and restaurants to have a nice brunch.
Lambton Quay lies in the heart of business central district from where the cable car ride starts off. It's a street full of shops from luxury end to high street retailers and a nice place to stroll along.