21 Unique And Interesting Facts Of Seoul,South Korea
South Korea is one such country, which will never fail to surprise you with their new technology, products and things you might have never seen anywhere before. This blog is about the unique and interesting things of South Korea
 1.Both men and women are equally obsessed with cosmetics and makeup.
 South Korea is a paradise for makeup lovers. But here both men and women are equally obsessed. People go gaga over their products and skin regime all over the world.
 2. K beauty craze is real- People from South Korea are very particular about their 7-step daily routine and glass skin. And as mentioned earlier, K beauty is a different world of makeup and now people from all over the world are loving this market. People travel from all countries specially to buy their cosmetic and beauty products and Seoul has specially dedicated areas to sell these ones.
 3.Free stuff from all shops- Sales staff from shops will provide you free sample products and this is absolutely normal and common. Even if you don't buy anything, they provide you free products to try and insist just to enter the shop
 4.Girly cute quirky things- Korean markets and products are full of cute quirky girly things. South Korean packaging is usually so attractive and all their products have an influence of cute animations and bright colors. Don't miss some of the unique attractive small things one can find here 
 5. Interesting showroom interiors- Not only the products but also their store ambience is a class apart. Every store look and feel depicts a story about their range and line, and is very fascinating to visit stores like Etude house, Line and Kakao Stores.
 6. Amazing socks variety- Nowhere else except South Korea could you find such cute animated colorful socks. Not just animation, they have all kinds of assortments from laces, animation, printed, simple and anything one could imagine. The most important point is they are not even expensive. So don't hesitate to stock more socks
7.Animation influence even on makeup packaging-As mentioned earlier their packaging is something which you would rarely find in any other country. Their lip balms and creams are in cute caricatures/cartoons. Even their face sheet masks have attractive catchy packing
 8. People carry suitcases for keeping their shopping stuff- Don't be surprised to see people which huge suitcases and travel bags when you would be shopping. Its normal to keep all your products bought in a bag for ease of moving.
 9. Shopping lockers to store your bags and luggage- Major subway stations have a locker system, where you can store your shopping bags or any stuff and be hands free.
 10. Robots on airport- As known to all, South Korea is quite advanced in technology and one of the proofs you could find is on the airport. There are robots moving all around to help you navigate and find places on the airport. Ask questions and the Robot will take you around. Isn't that cool?!
 11. Easy Electronic Tax Refunds on airport- Speaking about technology, let's not forget their tax refunds. Super easy and fast process by just scanning all tax refund receipts in a machine. Get on spot cash refunds through the machine.
 12. Super-Fast and blazing internet and advanced technology- 
South Korea's internet speed is blazing fast as compared to other countries with a speed of 28.6 Mbit/s four times faster than world average of 7 Mbit/s
 13. Pocket wifi is normal and very easily available- Pocket WIFI's are available abundantly with easy pickups and drop offs at airports and various locations in cities.
 14. Electronic toilets of Japan- Be happy and prepared to use famous electronic Japanese TOTO Toilets also in South Korea, not everywhere though.
 15. Samsung and Hyundai are everywhere- As to the opposite concept of Samsung only in cell phone industry and Hyundai as a car company, these companies are everywhere in South Korea from elevators, equipment's to colonies
 16. Medical tourism is common in South Korea- People from around the world specifically visit South Korea for cosmetic surgeries and to enhance their looks known popularly as medical tourism
 17. Plastic surgery is very much normal- In South Korea having flawless skin and beauty is serious and crucial. For this going under the knife is no big deal to look beautiful and is at times even encouraged
 18. K-Pop music and its craze- K pop songs are now a craze around the world since Gangnam Style became the 1st song to hit billion views. Korean Drama, K pop music and their merchandise are very special for the youth among South Korea. They have religious followers and one must not skip visit to their gangnam neighbourhood.
 19. Korean snacks and food come in unbelievable flavours-
One can find numerous flavours in snacks and food items. Example: Even almonds are flavoured like honey butter almonds, honey butter chips, strawberry almonds and even milk like banana milk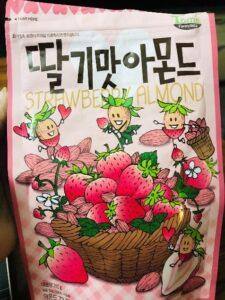 20. Handmade Flower Shaped Ice Creams- One famous form of ice creams in South Korea are the ice creams in the form of flowers. They come usually in 3 flavours and are super delicious. The famous milky bee shop is in shopping district of Myeong-dong
 21. Sugar syrup instead of sachets in coffee shops- Don't be surprised to find sugar syrup dispenser pumps instead of sugar sachets in famous like Hollys Café, Starbucks etc. Some Shops may still have sugar sachets though.