Things to know before travelling to Maldives
All the information one needs to know before landing in Maldives 
Maldives has been the most popular destination since the corona pandemic has hit. People have been flocking to Maldives for pristine beaches, diving and snorkeling with easy quarantine free travelling. This blog will focus on information you will need to know before travelling to Maldives during the Corona Pandemic.  
Maldives is just an hour away by flight from Sri-lanka. It is made of total of 1200 small islands of 200 islands are inhabited. Many of them are also resort islands with private areas. It can be overwhelming to choose from the wide variety of resorts and guesthouses. Also, Maldives can be heavy on your pockets if you travel in the peak season. Another reason for Maldives being famous are their Water Villas. Many people often are confused to choose between Water Villas and Beach Villas. I would suggest whichever you choose you are undoubtedly going to get splendid views. 
Dont be surprised to find "All Inclusive/ Half Board/ Full board" Packages at Resorts. These packages are more budget friendly which include lunch, dinner and drinks. 
These are just few of the many things to know. Here is a comprehensive guide to know about travelling to Maldives.
Where is Maldives located?
The Maldives is a captivating archipelago nestled in the heart of the Indian Ocean. Geographically, it can be found southwest of the Indian subcontinent, neighboring both India and Sri Lanka. This tropical paradise comprises a collection of 26 coral atolls, encompassing approximately 1,200 coral islands. The Maldives' geographical coordinates place it southwest of Sri Lanka and southwest of the southernmost tip of India.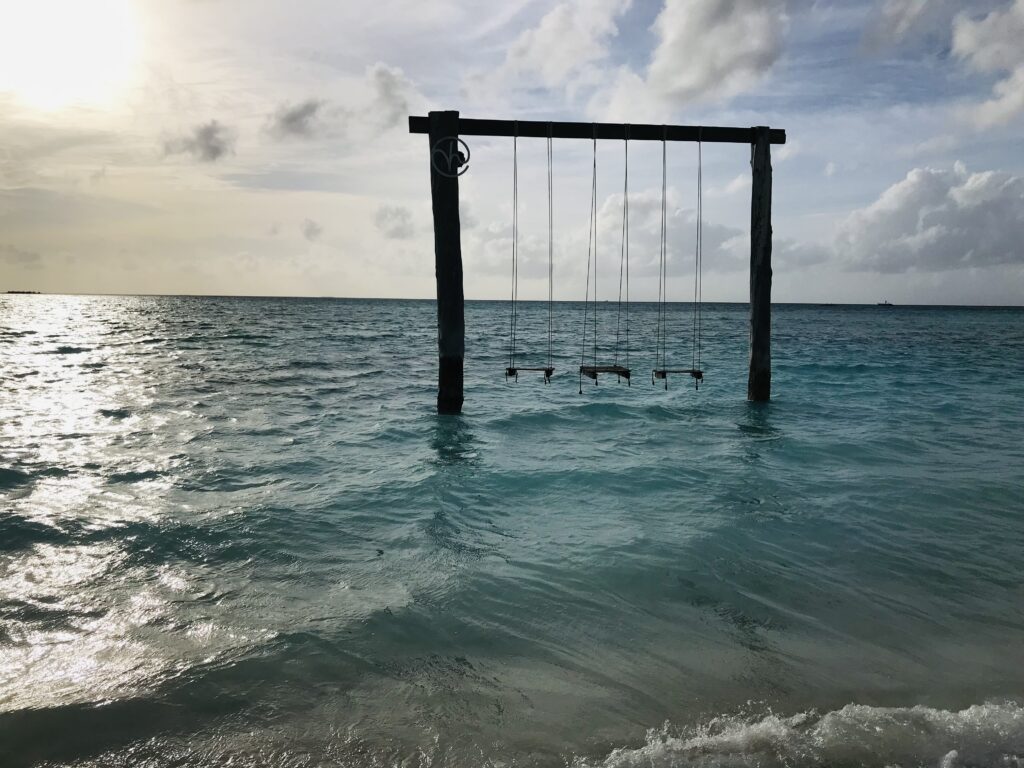 Things to know before landing in Maldives?
Which is the peak season to visit Maldives?

Peak season to visit Maldives is from November to April , which is also dry weather with no rains

Which season is best to strike great and cheap resort deals?

The wet and rainy season lasts roughly from May till October. This time of the year is also best for surfing, and you will be lucky to strike amazing deals during this time.

Which currency is used in Maldives?

Official currency of Maldives is Maldivian Rufiyaa, but the resorts and shops charge in US Dollar $. Majority resorts prefer payments by card.

Is visa on arrival available?

Yes, free 30 day visa on arrival/tourist visa is granted to all nationalities, if they satisfy basic entry requirements on arrival.

Is quarantine mandatory for tourists?

Quarantine is not required for tourists who do not have COVID19 symptoms.

Is Booster Vaccination dose mandatory?

If 6 months have passed since the prescribed vaccination dose was taken then a Booster dose for Covid19 must also be completed.

How many hours prior to departure must the RT PCR test be taken?

The RT PCR test must be taken not more than 96 hrs before the scheduled departure time. 

Which details are required on the RT PCR negative report?

The RT PCR negative report must have your name as mentioned in passport along with your passport number. Also many airlines require test results with QR codes which are usually present in your report. 

Is Covaxin vaccination approved in Maldives?

Yes, if you have taken Covaxin vaccination, you can still travel to Maldives

Do tourists need to take a PCR test after landing?

No, there is no requirement for RT-PCR test after landing if you dont have COVID19 symptoms.

How many days prior to arrival must the person be vaccinated?

The person must have taken both doses of vaccination atleast 14 days prior to arrival in Maldives. 

Which form one needs to fill before landing and departing from Maldives?

Every passenger needs to fill a mandatory Travel Declaration Form within 48hrs of the flight time at IMUGA. 
Do carry a printout or screenshot of the QR code of the filled IMUGA form. 

For Indian passengers which form do we need to fill before landing back in India?

All Indians need to fill the Health Declaration Form online on Air Suvidha and carry a printout or soft copy of the filled form  within 24 hrs of departure from Maldives.

Is web check-in mandatory for airlines?

Majority of airlines have made web check in mandatory for all passengers.

What mode of transfer is preferable to travel from Male to islands in Maldives?

There are 3 types of transportation. One is seaplane which is expensive, 2nd one is speed boat transfer and 3rd is domestic flights for few islands.

Can one visit a different island other than the one which they are staying on?

Yes after approval, tourists can visit other island on day trip or split booking basis but after obtaining approval from ministry of tourism. 

What if I contract Covid19 while I am staying in Maldives?

A mandatory 14 day quarantine will be implemented as per WHO guidelines and travelling will not be permitted. 

What are usually the timings of seaplane?

Seaplanes fly from morning 6 am till 3.30 pm, 7 days a week . Last seaplane will take off before sunset for visibility and safety issues. One needs to arrive in Maldives till 3.30 pm to catch the last seaplane. For more details on seaplane click here

What documents are required for immigration in Maldives?

For detailed information on all the documents required for immigration in Maldives check this

How much does a seaplane cost?

As mentioned earlier, sea planes are pretty expensive and the return trip can cost from 200 -500 US $ per person from Male airport.

Can you bring alcohol into Maldives?

No. Maldives being an Islamic country you are not allowed to bring liquor to Maldives.

Is Travel Insurance mandatory in Maldives?

Travel Insurance is not mandatory for arriving in Maldives, but majority of the resorts do need a travel insurance and it is advisable to buy one.